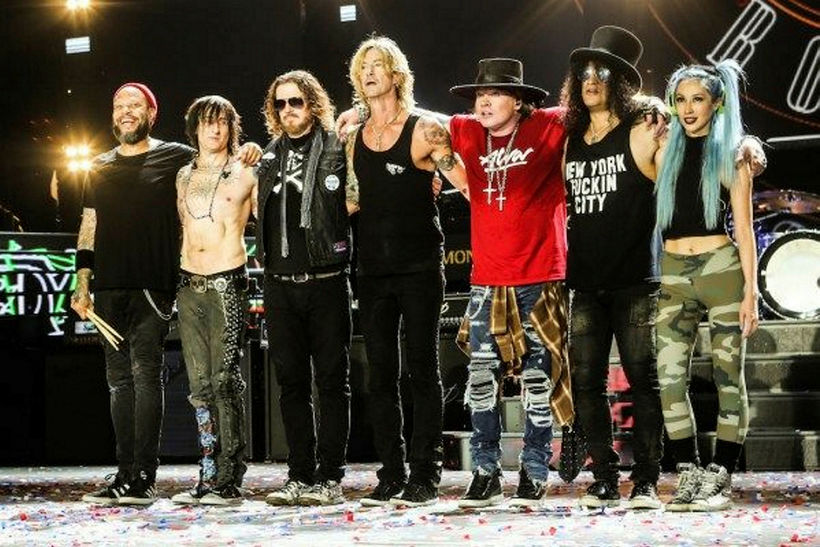 The music industry accommodates thousands of artists every year but a large percentage of these artists are upcoming artists. Most artists sink into oblivion and just fade away after one or two studio albums; this is particularly evident among bands as different egos may clash once they start raking up huge amounts of money from endorsement deals and album sales. However, there is one band that has managed to stand the test of time and is still going strong 33 years after it released its first album.
Guns N' Roses founded in 1985 first came to the fore in 1986 when it signed a deal with Geffen Records in 1986. It did not take long before it released its debut album, "Appetite for Destruction" in 1987. The album was such a success that it took less than a year before it reached the number one spot on the Billboard 200 Charts. Riding in the wave of popularity, Guns N' Roses was quick to release a single within a year of releasing its debut album; the single "Sweet Child o' Mine" enjoyed massive success occupying the number one spot on the Billboard Hot 100 soon after. Guns N' Roses went on to release "G N' R Lies", "Use Your Illusion 1, Use Your Illusion 11" and "The Spaghetti Incident" albums in 1988, 1991 and 1993 respectively.
From 1993, Guns N' Roses took some time off from releasing albums. However, the group's influence did not wane during this period, instead, the group's popularity actually increased as the band went on tours to several cities across the world.
It was only in 2008 that the group decided to release its sixth album titled, "Chinese Democracy." Like past albums, "Chinese Democracy" was a huge hit and it helped to resurrect the memories of the band in the minds of those who had forgotten about the band. At the same time that Guns N' Roses released its sixth album, it made a vow not to stay out of touch with its fans. In order to achieve this, it stated that it would be doing regular world tours. At the start of 2016, Guns N' Roses began its tours in Hollywood. The tour saw the band performing in most states in the US ending with the Las Vegas Tour in Las Vegas. Guns N' Roses official website state that from June 2018 the band will be touring Europe.
Guns N' Roses both in the music industry and beyond cannot be understated. The band has influenced modern rock bands such as Black Label Society, Bullet for my Valentine and Mother Love Bone. The band's massive influence saw it named among the "50 Bands to See Before You Die" by Q Magazine and its induction into the Rock and Roll Hall of Fame in 2012. In 2016, software developer Net Entertainment developed a branded Guns N' Roses slot game which has turned out to be the most successful game from Net Entertainment. The game is available at Oddschecker and comes with free spins and loads of bonuses.